Are you ready to be Millionaire? It's the best time of the year where you have the opening to win big cash prizes and turn the tables in your favor for the rest of the year. Junglee Rummy is giving you the opportunity to win millions by using your smartphone. Join The Millionaire Series: 10 Lakh Prize pool tourney.
Join the Millionaire Series 10L and make incredibly big bucks in the very first month of 2020. Rush to the tables as we have got limited and so is the time. Hurry up!!
How to participate?
It takes only three simple steps to become a millionaire! Join the Millionaire Morning Finales 1L and Millionaire Evening Finales 1L from 27 January to 30 January 2020 to win tickets for Millionaire Semi-Finales at 9:30 PM daily and at 5:30 PM on 30 January 2020.
Play Millionaire Semi-Finales and win a ticket to the Millionaire Series Grand Finale 10L on 30 January 2020 at 9:30 PM.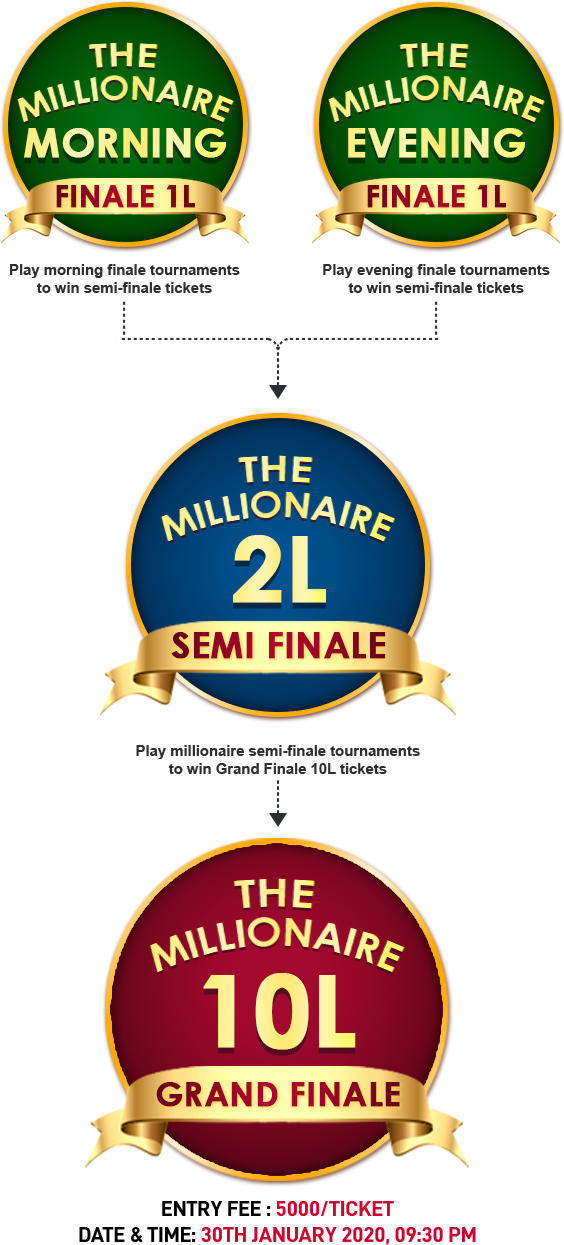 Entry Fee for Millionaire Morning Finales 1L is Rs. 500 and Millionaire Evening Finales 1L is Rs. 1,000. Get on your gaming mode and give your best performance to be the millionaire on 30 January 2020 as we have seats for 250 players only.
Millionaire Morning and Evening Finales
Join the Morning and Evening Finales daily to win ticket to the Semi-Finales. Your performance in the Semi-Finales will decide your chances to win the grand amount of 10 lakhs on 30 January.
Register with a small entry fee and fight it out to get your 10L Grand Finale ticket.
Millionaire Grand Finale
The Millionaire series will conclude on 30th January 2020 with the final tournament being held at 9:30 PM on that day. Use the tickets you have won in the Millionaire Semi-Finales to participate in the grand tournament and play to win a big amount from the massive prize pool. You can also book your seat directly by paying Rs.5,000 as the entry fee.
Don't miss your golden chance to become a millionaire. Hurry, book your seat now!
Terms and conditions
Tickets to The Millionaire Final Tournament are non-refundable, non-transferable and cannot be converted in to cash.
An individual player can win multiple tickets to the Millionaire Final Tournament, however only 1 will be applicable for joining these tournaments.
Any player found colluding or soft playing during the course of a tournament to allow another player to win will be disqualified and his/her account will be frozen.
Any withdrawals made on any winnings during the tournaments are subject to JungleeRummy's standard withdrawal procedure and collusion check.
Junglee Rummy Management reserves its right to cancel or discontinue the qualifiers or its terms at any time.
Participation in the Qualifier tournaments is on first-come-first-serve basis.
JungleeRummy.com will not be responsible if any player does not get a seat.
The tickets will be provided to the winners after the completion of the Qualifier Tournament.
Players must be 100% KYC verified to avail any of the prizes.
Winners of the tournament will be requested to share their experiences with Junglee Rummy in video or text format. Junglee Rummy would have the sole discretion to use such content for promotion purpose, which include but does not limit to social media, email communication, digital ads, etc.
Junglee Rummy Management reserves its right to cancel or discontinue this promotion at any time.
The decision of Junglee Rummy Management is final in case of any disputes.
All standard Junglee Rummy terms and conditions apply.
Testimonials

Junglee Rummy is totally Impartial and Honest!
Being passionate for rummy game, I was searching for legal & secure site. Finally, I found JungleeRummy, follows fair play guidlines strictly.
Krishnendu Chakraborty, Kolkata, West Bengal

Junglee Rummy is Super Customer-Friendly!
Junglee Rummy's response to any queries is instant. I urge all the Junglee rummy players to report any problem immediately. Do not hesitate to approach the support team.
Bisweswar Goswami, Ahmedabad, Gujarat

My Search for the Best Rummy Site Ends here
It's really fun to play here as I win real cash prizes regularly and make withdrawals. I have played on other websites before, but now I don't even want to visit those sites.
S Muneeswaran, Virudhunagar, Tamil Nadu