Welcome 2020 with a blast with Junglee Rummy's New Year Rummy Bash!
Get ready to welcome 2020 with India's greatest and grandest rummy tournament. Be the part of New Year Rummy Bash 2020 and stand a chance to win from a 2.020 Crore prize pool. Take home the bumper prize money of 1 Crore prize pool in the grand finale.
Are you ready for the biggest league of the year 2019? Do you want to move in 2020 with a big blast?
Here's your chance to be a millionaire on the very first day of 2020. Not only that, New Year Rummy Bash 2020 is India's only rummy tournament leaderboard series which rewards you for playing tournaments as well as winning them!
Put on your gaming suits and get ready to participate in the biggest rummy tournaments, the New Year Rummy Bash 2020. Start hustling now to become India's Greatest Rummy Champion as you enter the New Year.
How to participate?
Step 1: Play any tournament between 3rd December 2019 to 30th December 2019 to earn leaderboard points.
Step 2: Participate in the NYRB Daily qualifiers to get 2X leaderboard points and win tickets to the daily finale. Participate in NYRB Daily finale to get 3X points & NYRB Mega finale to get 4X points.
Step 3: The more you play, the more leaderboard points you earn. Top 400 players on the leaderboard will win tickets direct entry to the New Year 2020 Grand Finale to win up to 1 Crore in prize money.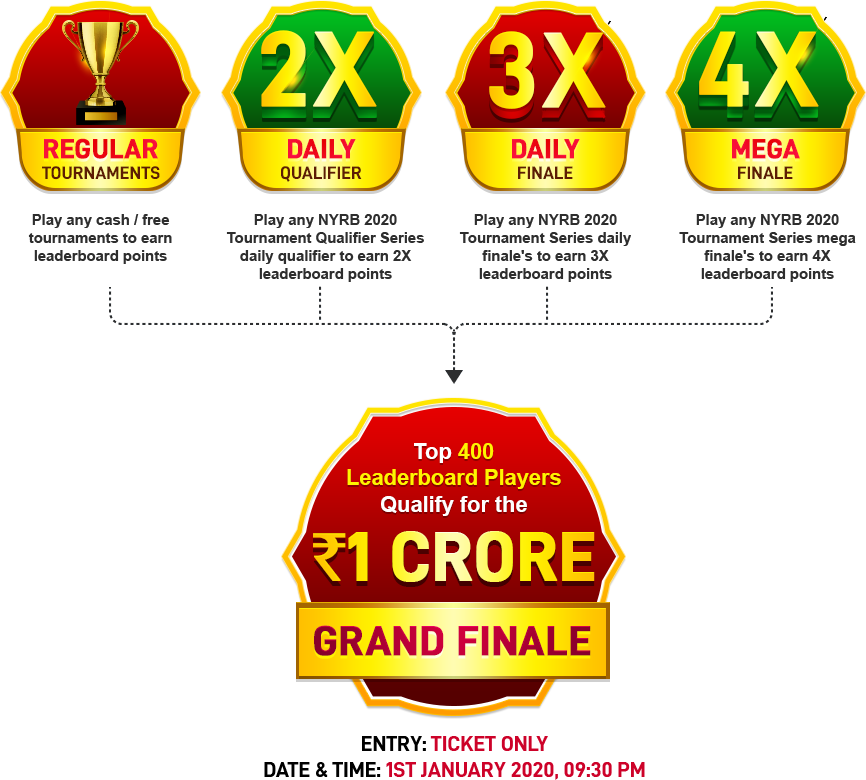 *Note: How are points calculated?

A. Any Free Entry Tournament: (Entry (1 Pt)+ Equivalent prize points for winning amount)/10
B. Any Cash tournaments: (Entry Fee equivalent points + Winning amount equivalent points)/10
C. NYRB 2020 Daily Qlfr: 2*(Entry Fee equivalent points + Winning amount equivalent points)/10
D.NYRB 2020 Daily Finale 1L GTD/2L GTD: 3*( Entry Fee equivalent points + Winning amount equivalent points)/10
E. NYRB 2020 Mega Finale 3L GTD: 4*( Entry Fee equivalent points + Winning amount equivalent points)/10

In short: FreeRoll Points + Cash Tournament Points + NYRB Daily Qualifier Points + NYRB Daily Finale Points + NYRB Mega Finale Points = Total points of the user.
Terms and conditions
Only players who are among the top 400 will get a chance to participate in the grand finale. The prizes will be disbursed within 24 hours of the end of the promotion.
Players will get ranked based on the points accrued by them by playing both cash and free games.
The Leaderboard results will be updated every six hours.
Tickets for the daily finale will be valid only for 1 day from the date that the user receives the ticket
Any tournament ticket prize will not be considered for Leaderboard Points calculation.
You can also win Daily Finale tickets from playing Freeroll tournaments.
Points will be accrued for only completed tournaments. No point will be given to the users for tournaments that are canceled.
All winners need to share their experience with Junglee Rummy in a video. Junglee Rummy will have the full right to use the video for promotional purposes.
The income tax called TDS (tax deducted at source) will be deducted from the winners' winnings, as per the income tax rules.
Final ranks will be declared on 30th December 2019 at 11:59 PM. All tournaments before 31st December 2019 12:01 AM will be considered for the points ( from the start of the series)
Tickets will be allocated for the Grand Finale based on Leaderboard Ranks on 31st December 2019 before 12:00 PM.
To be eligible for any prizes, players must ensure that they have provided us with their valid email addresses and mobile numbers.
If your KYC is not approved, you won't be eligible for any of the prizes.
If the above prizes are not available because of any unforeseen circumstances, Junglee Rummy will reward the winners with their cash equivalents.
The contest will run as per the schedule mentioned above.
All standard Junglee Rummy terms and conditions apply.
The decision of the Junglee Rummy management shall be final and binding in case of any disputes.
If you buy a direct entry ticket for the Grand Finale from the promotions, it will be non-redeemable in cash and no refund will be provided.
You also acknowledge that the state laws of Assam, Odisha, Telangana, also called the Restricted Territories, do not permit their residents to play cash rummy games. You shall abide by these state laws and will not use Junglee Rummy's Services to deposit cash, withdraw cash, or participate in tournaments on Junglee Rummy while residing in these states.
Testimonials

Junglee Rummy is totally Impartial and Honest!
Being passionate for rummy game, I was searching for legal & secure site. Finally, I found JungleeRummy, follows fair play guidlines strictly.
Krishnendu Chakraborty, Kolkata, West Bengal

Junglee Rummy is Super Customer-Friendly!
Junglee Rummy's response to any queries is instant. I urge all the Junglee rummy players to report any problem immediately. Do not hesitate to approach the support team.
Bisweswar Goswami, Ahmedabad, Gujarat

My Search for the Best Rummy Site Ends here
It's really fun to play here as I win real cash prizes regularly and make withdrawals. I have played on other websites before, but now I don't even want to visit those sites.
S Muneeswaran, Virudhunagar, Tamil Nadu