The Home of the Champions!

The RPL series is widely regarded as India's best rummy tournament and is one of the few flagships to enjoy a massive fan following. The RPL 8, which was the eighth installment of the RPL flagship series, was held from 8th May to 21st June 2020 and witnessed massive participation with players from all over the country signing up for the tournament. A big thanks to all the participants and many Congratulations to all the winners.
Here's what made the RPL 8 such a huge success:
➞ The RPL 8 had a massive prize pool of 7.5 crore which was almost 5X bigger than the RPL 7.
➞ The Grand finale 1st prize was Rs 47.2 Lakhs !!
➞ The tournament offered an unbiased opportunity for everyone where even a person starting with just Rs. 20 could win up to rs 4,700,000.
➞ Tier 2 and Tier 3 cities saw a huge increase in participation as compared to previous tournaments.
Top 3 Grand Finale Winners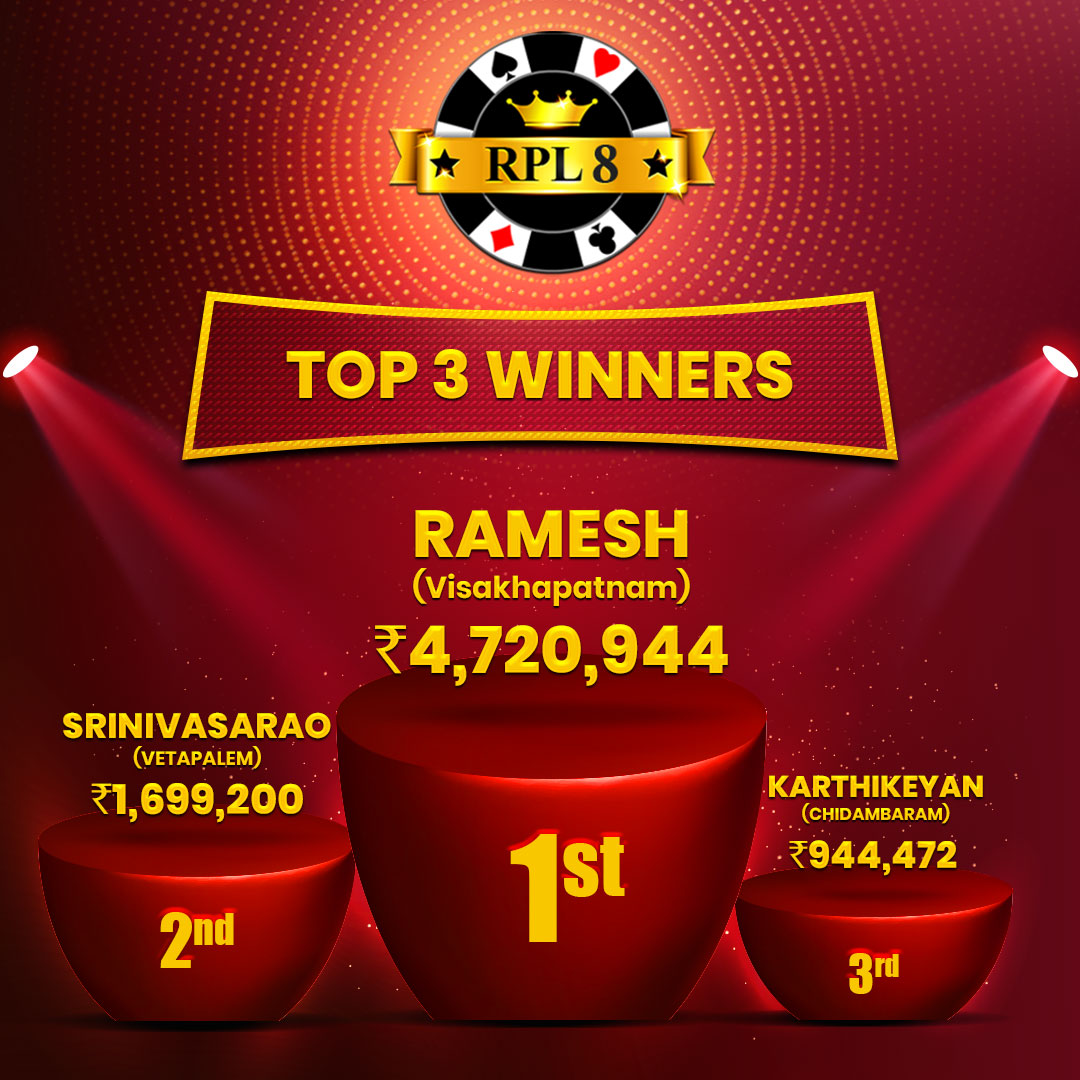 That's not all…
We lived up to our promise of being the Extra Extra large by rewarding players for winning Extra tickets. As many as 43 players won Rs.16 lakhs collectively in cash bonuses !!
Want to be featured in our hall of fame?
Join the Azadi 7.5 Cr. Tournament Series
Testimonials

Junglee Rummy is totally Impartial and Honest!
Being passionate for rummy game, I was searching for legal & secure site. Finally, I found JungleeRummy, follows fair play guidlines strictly.
Krishnendu Chakraborty, Kolkata, West Bengal

Junglee Rummy is Super Customer-Friendly!
Junglee Rummy's response to any queries is instant. I urge all the Junglee rummy players to report any problem immediately. Do not hesitate to approach the support team.
Bisweswar Goswami, Ahmedabad, Gujarat

My Search for the Best Rummy Site Ends here
It's really fun to play here as I win real cash prizes regularly and make withdrawals. I have played on other websites before, but now I don't even want to visit those sites.
S Muneeswaran, Virudhunagar, Tamil Nadu