Participate in the Express Tournament Series &
win from ₹2 Crore in 2 weeks!
Play tournaments & win free tickets to bigger tournaments

Live Leaderboard



Leaderboard Points Distribution
| Multiplier | Tournament Name |
| --- | --- |
| 3X | Qualifiers |
| 4X | Morning, Evening, Night, Daily Finale |

Leaderboard Points Calculation
Daily Qualifier
: 3X
(Entry Fee equivalent points)/10
Morning/Evening/Night/Daily Finale
: 4X
(Entry Fee equivalent points)/10

Leaderboard Power-Up
Fastest way to earn extra Leaderboard Points in Flash ₹2.5 Crore Tournament Series
1. Play a Morning/Evening/Night/Daily Finale
2. Wager a min. of ₹1000 at 6-player Points Rummy/Deals Rummy tables.
Note - It is mandatory to fulfill both the conditions to earn extra leaderboard points.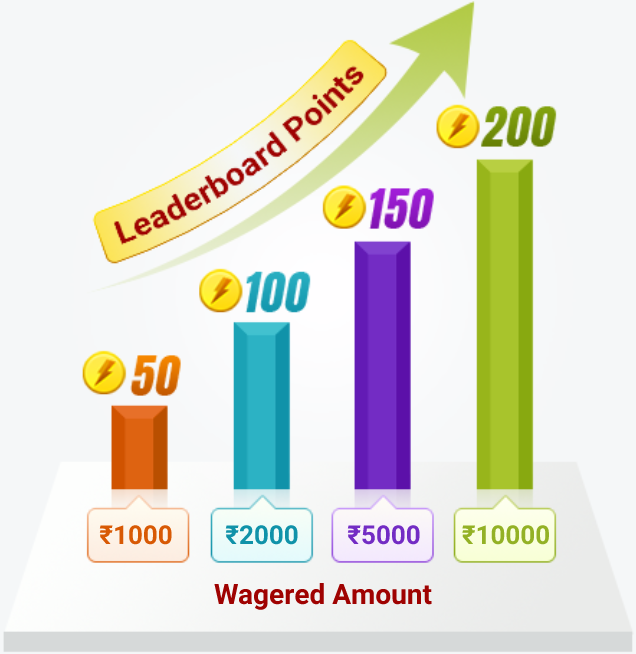 Wager = Total entry fee paid for playing Rummy cash games.
Terms and Conditions

1. Only Deals Rummy Tournaments can be played in the Tournaments Series.
2. Daily Finale tickets can also be won by playing Free Tournaments.
3. Tickets to Daily Finales will be valid only for the day on which they are issued.
4. Junglee Rummy holds the right to rescind the prize(s) offered if any unfair means are used by a player to win the prize(s).
5. Restricted States

You acknowledge that the state laws of Andhra Pradesh, Assam, Meghalaya, Odisha, Sikkim, Nagaland, and Telangana (also called Restricted Territories) do not permit the residents of the aforementioned states to play cash rummy games/tournaments online. You shall abide by these states' laws and shall not use Junglee Rummy's services to deposit cash, withdraw cash, or participate in cash games or tournaments on Junglee Rummy while residing in or logging in from these states.

6. If a player from a restricted state, unknown to Junglee Rummy, wins a Grand Finale ticket(s), or Daily Finale ticket(s) by playing Free or Cash tournaments, the ticket(s) will be forfeited and no refund will be provided for the ticket(s) won or the entry fee paid.
7. Players residing in or logged in from the restricted states are not eligible for any bonus.
8. Every winner will have to share a video testimonial with Junglee Rummy. Junglee Rummy will have the full right to use the video for all promotional purposes.
9. To be eligible for any prizes and benefits, players must ensure that they have provided us with their valid email addresses and mobile numbers.
10. Players whose KYC is not approved will not be eligible for any prizes or benefits.
11. The tournament series will run as per the schedule provided above.
12. All standard Junglee Rummy terms and conditions apply.
13. The decision of the Junglee Rummy management shall be final and binding in case of any disputes.
14. Direct entry tickets bought from the lobby to enter big tournaments will not be considered for any refund under any circumstances.
15. Junglee Rummy representatives will approach players who win ₹10,000 or more in any tournament for an official text or video testimonial.